You're spending more time indoors with an Air Purifier.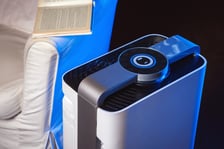 Improve the quality of air in your home and help remove allergens, dust, odors and VOCs. Air purifiers can help remove airborne particles and improve air quality, especially if you have allergies, pets, or stale indoor air.
Using an Energy-Efficient Air purifier can save you $25 every year, while keeping the air in your home healthier.
Air Purifiers can help against:
Smoke
Mold
Pet Dander
Allergens
Indoor toxins like household cleaning products
Other Tips:
Get the right sized purifier for the room you are placing it in
Routinely clean and change the filters in your purifier
Vacuum and dust your home often
Include house plants in your home to help clean the air naturally