Commercial & Industrial Facilities
RISE is a "one-stop" provider of turnkey energy-efficiency services encompassing various technologies, industries and facility types.
RISE provides commercial and industrial energy users comprehensive solutions that reduce the environmental footprint and operating expense of their facilities. Our start-to-finish services include energy assessments and proposals, energy engineering services, project management, installation of energy improvements, and assistance leveraging available financial incentives. We serve various industries and types of facilities and scale our services accordingly, whether it be for a single building in one location or a portfolio of buildings in multiple locations.

RISE is a Project Expeditor (PEX) for National Grid's commercial and industrial customers in Massachusetts, Rhode Island and New York. A PEX is an authorized contractor selected through a bid process to implement energy retrofit projects that qualify for financial incentives. PEX are required to achieve target kWh and natural gas savings goals while maintaining high customer satisfaction. RISE has served as a PEX since the program's inception in 1996. We also support Eversource and other C&I energy programs throughout the Northeast on a competitive bid basis.
How It Works
To understand each customer's energy-efficiency needs and goals, we interview key staff, review utility bills and any prior energy improvements, and conduct an energy assessment/walkthrough of the facility. We use this data to prepare a customized proposal that: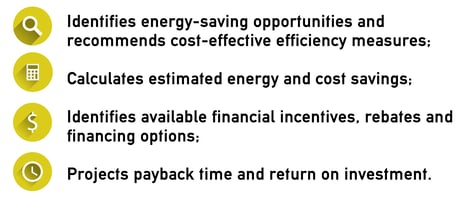 RISE's turnkey project management and installation services include securing all permits, developing installation schedules that minimally impact the facility's operations, supervising contractors, providing trash removal and recycling old equipment. We also provide a one-year warranty on parts and labor, in addition to manufacturer warranties.
Our project teams develop energy-efficiency retrofit strategies for customers that maximize savings, minimize payback time, and optimize building comfort. Team members undergo extensive product training, employ sophisticated costing tools, and communicate directly with energy program sponsors, manufacturers, and distributors. Moreover, our in-house energy engineers utilize advanced analysis and simulation technologies to create what-if energy usage models that forecast the effect and return on investment of potential upgrade strategies.