HIGH EFFICIENCY TRANSFORMERS
Most electricity used in non-residential buildings flows through distribution transformers on the customer side of the electric meter. Older equipment can be replaced with premium efficiency transformers that will reduce noise and heat, and save a significant amount of energy. Because transformers are powered every hour of every day, even incremental improvements can yield significant energy savings over time.
THE ADVANTAGES
Heat Gain Reduction

Sound Level Reductions
Right-Sizing
24/7 Savings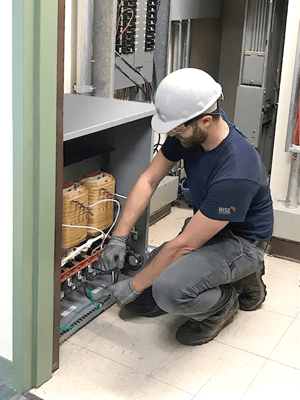 TAKE ACTION AND SEE THE DIFFERENCE.
RISE's energy-efficiency experts can evaluate the benefits of replacing your current transformers with updated units. We can present you with a proposal that outlines the investment, the savings, and the incentives available from utilities and other program sponsors that can help reduce your out-of-pocket cost.
If you choose to proceed, licensed professionals will install premium efficiency units with minimal disruption to your operations. RISE will guarantee all work and follow up to make sure you are completely satisfied.