BRINGING NEW ENERGY WITH COMMERCIAL PV
Solar Installations
For well over 40 years, RISE has been a pioneer in delivering energy efficiency services to the region. Building on that track record, we have recently invested in expanding our capability to offer our commercial customers on-site renewable energy systems to complement the efficiency in their buildings.

Commercial photovoltaic (PV) solar installations offer long-term protection from escalating electric rates. Substantial state and utility incentives, coupled with significant federal tax credits and other tax advantages, help system owners realize substantial cost savings on the initial investment. RISE's experience installing solar PV systems on commercial and other institutional buildings, and our background as a one-stop energy services provider, assure you of a solar installation fully optimized for performance, financial return, and longevity.
The Advantages
Incentives to reduce system costs
A wide array of state and utility incentives are available for commercial solar installations. Federal tax credits and accelerated depreciation may also apply.
Reduced Operating Costs
Solar net metering reduces billable kWh supply costs from electric utilities on a monthly basis. Some electrical demand charges may also be reduced, which will further add to the return you can expect.
Long-term Warranties
Most solar equipment includes extended long-term manufacturer warranties, and RISE Engineering's extended workmanship warranty is included with every installation.
TAKE ACTION AND SEE THE DIFFERENCE.
RISE's energy experts will perform a no-cost site assessment, and present you with a turnkey proposal that incorporates available incentives. If you choose to proceed, our licensed staff will install the system, guarantee all work, and remain available to make sure you are completely satisfied. It couldn't be easier.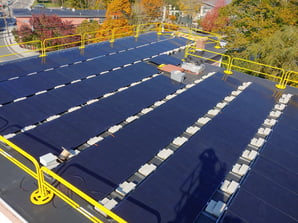 WORKING WITH RISE ENGINEERING INCLUDES:
Experienced, licensed electricians and solar experts
Access to maximum incentives and affordable funding sources
Peace of mind with long-term equipment and workmanship warranties
Accurate engineering estimates of system performance and return on investment